This is the second of a five part series about breaking into product management:
Soft skills to accelerate your PM career <- this article
None of the routes into product management is predictable or certain, but if you invest in the fundamental skills you need to succeed in product, then you are continually improving your chances. This is why perseverance is key – even if initially you aren't a strong candidate, as you strengthen your skills and network you load the dice to the point that it's just a matter of time before you land your first role.


The skills that you need to break into product management are also the ones you need to advance in it, so time invested here is going to serve you well in the long run. There are five soft skills to develop:
Strategic thinking
Communication
Leadership
Decision making
Execution
Soft skills for product managers: Strategic thinking
Product managers should be able to come up with an effective plan of action to solve any problem. They create order from chaos. When a team is given an objective, it's common for them to be overwhelmed and not know where to start. PMs synthesize the insights, generate options with the team, and prioritize the options with the best chances of success. Strategy tells you what to work on and why, based on a logical argument. As a result, PMs are also skilled at putting top-down feature requests into context, knowing when to run with them, and when to graciously push back.

"People think focus means saying yes to the thing you've got to focus on. But that's not what it means at all. It means saying no to the hundred other good ideas".

– Steve Jobs
Tips and resources:
Soft skills for product managers: Communication
Whilst engineers and designers often have swaths of time to themselves for deep work, look at any PM's calendar and you'll see lots of meetings, interspersed with time for prepping meetings, writing emails and documenting insights and decisions. The core activity of product management is communication, and PMs do it on two levels all the time. Internally, to coordinate your team towards a common goal, and externally, with other teams and stakeholders.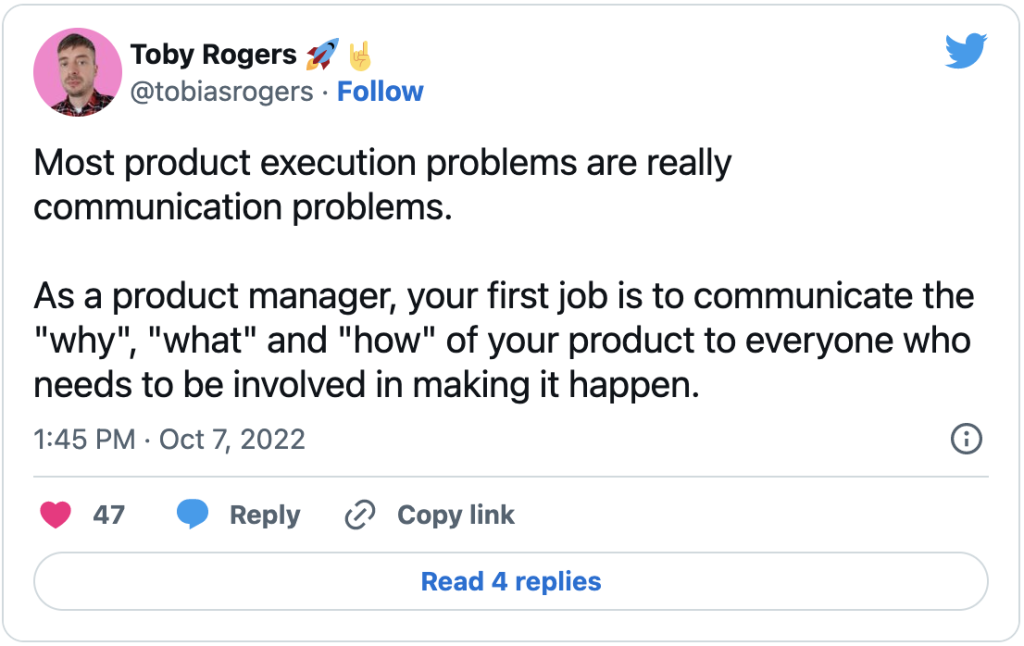 Tips and resources:
Soft skills for product managers: Leadership
Product managers lead cross-functional development teams, but have to do this with influence rather than authority. Great leadership involves setting a compelling vision, making sure everyone knows what they should be doing, removing ambiguity and doing whatever it takes to get the job done. More than anything great leaders stretch the individuals around them, helping them do work which is better than they could do alone. This is difficult, but hugely rewarding. To do it well, you need to have high levels of empathy and be able to challenge colleagues in a positive, non-confrontational way.
"The job of leadership is to foster alignment and enthusiasm toward the right goal."

– Ev Williams, CEO Medium
Tips and resources:
Soft skills for product managers: Decision making
PMs help the team and stakeholders take decisions at all levels, and throughout the product development lifecycle. At one end of the spectrum you'll be working with stakeholders to define your strategic focus, which might have multi-million dollar implications, whilst at the other you'll be discussing designs to pixel perfection with the team. You don't need to make every decision yourself, but you need to make sure fast, high quality decisions get made, and the team isn't blocked by indecision.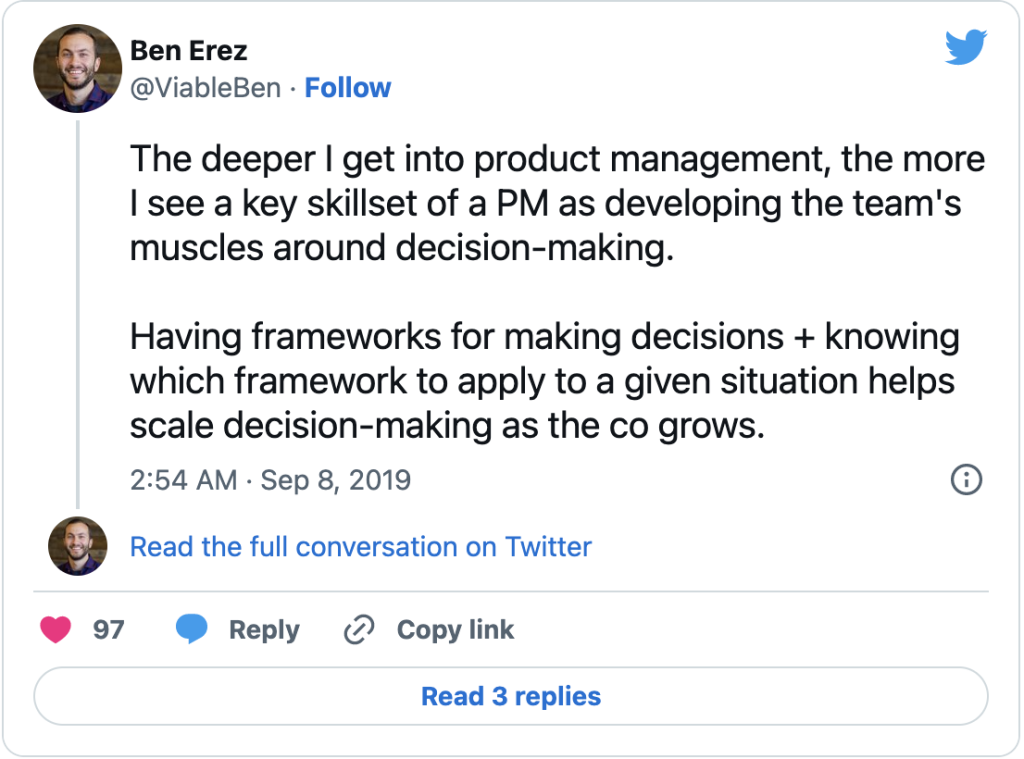 Tips and resources:
Soft skills for product managers: Execution
Straightforwardly, you get the job done. You are always prepared, versatile, and pragmatic. This is such a spike for you, that your team can be relied on to deliver as well, as you drive them towards successful outcomes. This isn't specific to product management. People who are conscientious by preparing, acting and following up diligently are the most successful in any sphere.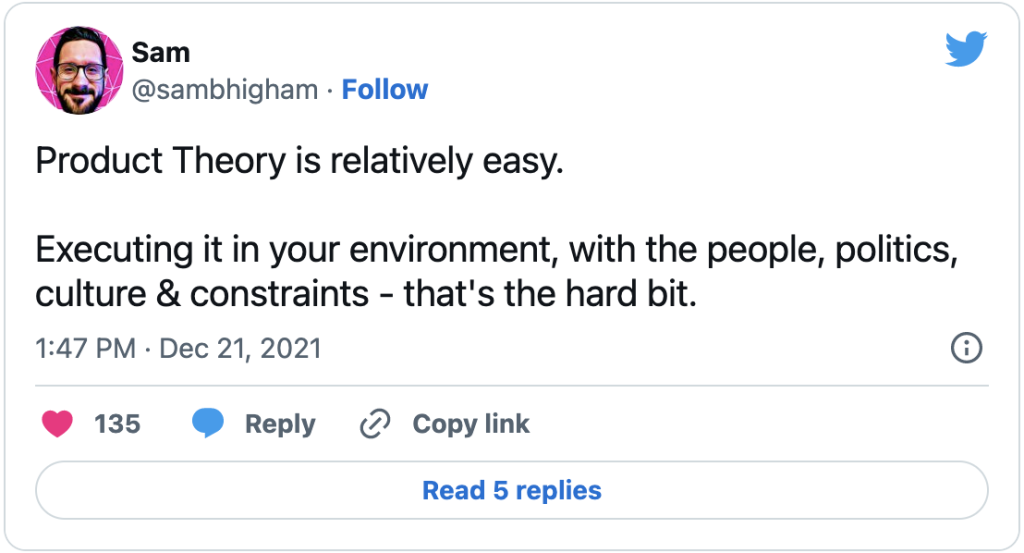 Tips and resources:
Soft skills for product managers: Summary
PMs are typically fairly generalist leaders who make things happen, which means that your soft skills are more important than specific hard skills. You need to understand the technical skills in your team to be able to credibly stretch them, but your own superpower is focusing and amplifying their capabilities to create the most impact.
Next in this series: Hard skills to accelerate your PM career
FAQs
What skills does a product manager need?
Product managers need to master five soft skills. They need to be good strategic thinkers, and able to create an effective plan of action to solve any problem. They need to be great communicators, and able to clearly tell everyone what is going on, and why. PMs are leaders, and should be able to generate enthusiasm around a goal and create momentum in a team towards it. PMs are also good decision makers, and can stop the team getting blocked by indecision. Finally, product managers need to be good at execution, and making sure their teams actually deliver impact, and not just features.
What is the hardest bit of product management?
Developing the soft skills necessary to be a successful product manager is often the hardest part of the job. Soft skills are difficult to learn, and require on-the-job experience combined with honest, constructive feedback from the people you are working with to develop. You should ask for feedback from your line manager and peers on a regular basis to help understand where you can improve, and look out for others around you that are great at these skills and you can learn from.
What are transferable skills as a product manager?
Product managers have lots of transferable skills, as they are generalists working in cross-functional teams of specialists like engineering and design. Product managers usually pick up enough technical knowledge in design, engineering and analysis to be dangerous in any adjacent field. The soft skills that PMs need – leadership, communication, execution, decision making and strategic thinking – are also critical to advancing in any discipline and are highly transferable.
What is the greatest strength of a product manager?
Product managers act as force multipliers for their teams, helping them work out the most important problems to be working on, design the best solutions to those problems, and deliver those solutions in the most effective way. Good product managers can also act as thought partners to individuals in their teams, and stretch them to deliver their best work.
How do you answer interview questions about your strengths and weaknesses as  a product manager?
Product management is such a broad role that no one is an expert at everything. You'll want to understand where your spikes are – the areas where you are particularly strong, and can add exceptional value to a team. You should also be ready to admit the areas where you aren't as strong – humility and self awareness is something that many companies test for – and discuss how you make allowances for these weaknesses. Good answers typically involve discussing the personal work you are doing to get stronger in these areas, as well as how you collaborate with the rest of your team to be effective as a group, and not just an individual.
How do you manage product feedback?
Product managers need to handle feedback on their products from both users and internal stakeholders. This feedback is invaluable to creating better products, so whilst it can be difficult to hear, it's important to embrace it. Typically you'll want to ask follow up questions to ensure you understand the feedback in full, and then work the feedback into your customer journey map, or world view of how the product performs. In this overall context you can then see if the feedback is important enough to act on immediately, or whether they are more pressing problems to address.